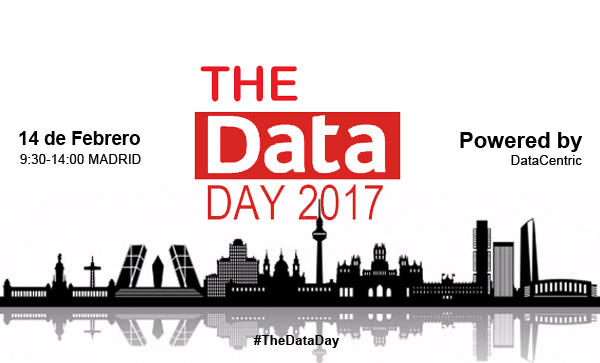 1 febrero 2017
The Data Day 2017. Primer evento de data-driven business en España
Bajo el lema "Lead with data, win with customers",
El evento tendrá lugar en Madrid el próximo 14 de febrero, en la Fundación Giner de los Ríos (Pº del General Martínez Campos, 14) y será inaugurado por Enrique Dans, profesor de Innovación y Tecnología en IE Business School y prestigioso divulgador sobre la incidencia de los cambios tecnológicos en el día a día de las corporaciones y de los ciudadanos en su conjunto.
A continuación, representantes de Endesa, Vodafone, ING, Rastreator o el Real Madrid Club de Fútbol, entre otras entidades, participarán en la mesa redonda 'La era del Big Data, desafíos en la gestión de los datos'. La jornada se cerrará con el taller 'Del Big Data al Deep Data. La ventaja competitiva del binomio dato-tecnología', coordinado por Juan Mora, Chief Business Officer de DatCentric.
La organización de The Data Day 2017  supone un paso más en el compromiso de DataCentric con la gestión inteligente de los datos en el ámbito empresarial, orientada siempre a la generación de ventajas competitivas.